QUALITY
TASTE
PRESENTATION
FOUNDED IN 2007 BY OWNER AND CHOCOLATIER, JULIE WATERMAN
Indulgence Chocolatiers meticulously handcrafts all of its confections in its Milwaukee, Wisconsin kitchen. Working with the finest chocolate from around the world and other locally sourced ingredients, our talented chocolatiers create confections that are as delicious as they are beautiful. No mass production, no artificial preservatives, just quality ingredients handcrafted into artisan confections in both classic and unique flavor combinations.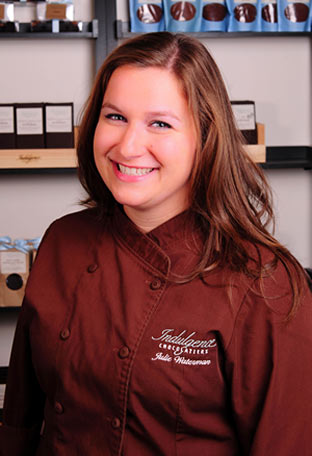 JULIE WATERMAN
Owner / Chocolatier
While in college studying music education, Julie took a backpacking trip through Europe that changed the direction of her professional ambitions. Struck by the quality and presentation of the chocolates she found abroad, Julie returned home with the idea of offering Milwaukee an upscale alternative to traditional old-fashioned candy shops. In 2007, she opened Indulgence as its only employee. Today, with three retail shops, and distribution of its confections to hundreds of other businesses, Indulgence allows Julie to share her passion for handcrafted chocolate with others.
WE INVITE YOU
Walker's Point: At our shop and chocolate pairing bar in the Walker's Point neighborhood of Milwaukee you can enjoy our confections thoughtfully paired with wines, craft beers, cheeses, and whiskey as you watch our chocolatiers at work in our kitchen.
East Tosa: Chocolate & ice cream shop! Featuring our always popular confections, along with a full scoop shop, where you can pair locally made Purple Door ice cream with an array of decadent toppings created by our chocolatiers.
Shorewood: In addition to our modern chocolate boutique, filled with all of our confections, you will find a full scoop shop that pairs local Purple Door ice cream with our own signature toppings.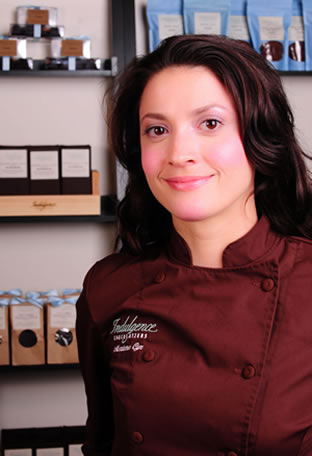 MARIANA CYR
Head Chocolatier
Mariana Cyr is Indulgence's Head Chocolatier responsible for the direction of Indulgence's production kitchen and the development of new confections. Mariana first discovered her passion for chocolate while attending the Milwaukee Area Technical College's Pastry Arts Program. Mariana then honed her skills through a number of positions at prominent hotels and restaurants before joining Indulgence in 2012. Ever since, she has been using her extraordinary skills in the kitchen, and her talent for recognizing unique flavor combinations, to keep Indulgence's confections innovative and exciting.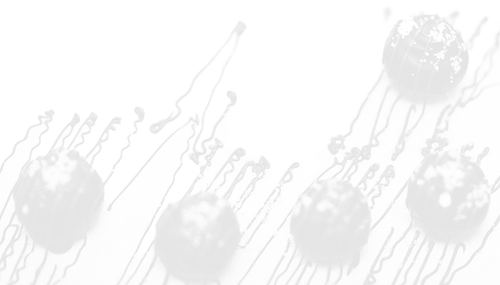 HANDCRAFTED OUR FINEST INGREDIENT IS CREATIVITY
THE INDULGENCE CHOCOLATIERS DIFFERENCE
At Indulgence, it's all about the quality of the chocolate. Confections made with the finest chocolate have always been, and always will be, our primary focus. It starts by selecting the best blended bean and single origin chocolate from producers around the world who share our commitment to environmental sustainability and fairness to people at every level of the process. Our talented chocolatiers then use their creativity and technical skills to transform that chocolate, along with other high quality ingredients, into beautiful and delicious confections. Whether it's a classic flavor combination that brings you back to your childhood, or an innovative new combination of flavors that you may never have imagined, our focus is always on letting the quality chocolate shine through.
Sure, it would be easy to use cheaper chocolate. We could use less expensive fillings or overpowering flavors that mask the quality of an inferior chocolate, but that's just not who we are. The chocolate comes first. Additionally, we are not about doing unusual for the sake of unusual. In other words, while we're known for creating confections with unique flavor combinations, we are not interested in making something for shock value that you'll likely try once and probably never want again. Instead, at Indulgence, there is thoughtful reasoning and consideration behind every confection that we craft. We believe that by honoring the quality chocolate used in our confections, we show respect and gratitude to all who choose to purchase and enjoy them.
SIGN UP FOR EMAIL
Be the first to know about pairing classes, seasonal products & events.
GIFT CARDS
Give the gift of unforgettable chocolate with our gift cards.