TRULY EXCEPTIONAL CHOCOLATE
PURVEYORS OF HANDMADE TRUFFLES, GOURMET BARS AND OTHER CHOCOLATE DELICACIES.
Serving the Milwaukee area and beyond, Indulgence Chocolatiers views each of its creations as a work of art that just happens to be delectable. We invite you to treat yourself and others to the fine artisan chocolate of Indulgence Chocolatiers.
CHOCOLATE 
PAIRING
CLASSES
SCHOOL IS IN SESSION.
Our new chocolate pairing class schedule is out. We're pairing our confections with wines, cheese, cocktails and more. See the full class schedule and sign up before they sell out.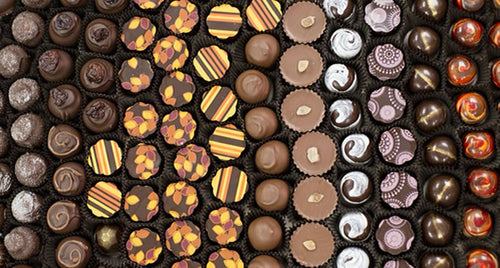 WHOLESALE
Introduce your customers to some truly exceptional chocolate. Whether you own a grocery or specialty food store, a wine store or bar, a restaurant or a hotel, we would welcome the opportunity to work with you.
SIGN UP FOR EMAIL
Be the first to know about pairing classes, seasonal products and events.
GIFT CARDS
Give the gift of unforgettable chocolate with our gift cards.